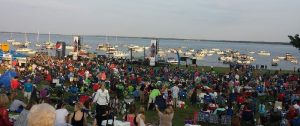 Due to the threat of inclement weather on the originally planned date, the 38th annual Pepsi Pops will take place on Friday, May 24, at Old Trace Park on the Reservoir. Gates open at 4:30pm, and the Mississippi Symphony Orchestra will take the stage at 7:30pm and will be immediately followed by a full display of fireworks.
Families are welcome to bring picnics, but if you'd rather someone else do the cooking, The Pig & Pint and The Manship will be on site cooking up delicious food, too!
Tickets are $15 at the gate or $12 in advance. $5 for children ages 4-18, and all children under 4 are free. Tickets can be purchased in advance at www.pepsipops.com!