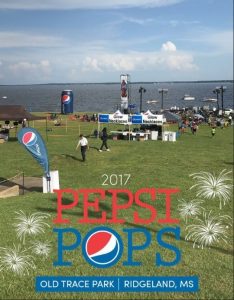 The 36th annual Pepsi Pops was quite the success! When the originally scheduled date was rained out, the event moved to Friday, May 19th. A few rain showers came through early in the evening, but that couldn't stop Pepsi Pops. As they say, the show must go on!
Southern Komfort Brass Band got the crowd warmed up before the main event: the Mississippi Symphony Orchestra. Patriotic tunes and popular tunes were played with the Reservoir in the backdrop, and the evening wrapped up with a grand display of fireworks. In addition to the music and atmosphere, attendees enjoyed the delicious food and ice-cold Pepsi products compliments of Backyard Burger and Penn's.
We look forward to another fabulous year next May for the 37th annual Pepsi Pops, and we hope you'll join in on the fun!