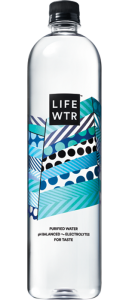 We're excited to introduce LIFEWTR, a new premium bottled water brand that fuses creativity and design to serve as a source of inspiration and hydration. The LIFEWTR experience combines the right mix of a pure, clean taste with eye-catching packaging.
LIFEWTR is a purified water, pH balanced with electrolytes added for taste. The bottles serve as a canvas for artists with three label designs that will rotate each quarter. By the end of 2017, there will have been 12 different designs!
The first three designs feature the work of MOMO, Jason Woodside, and Craig & Karl. For a #MoreInspired experience with LIFEWTR, please feel free to visit the product website!