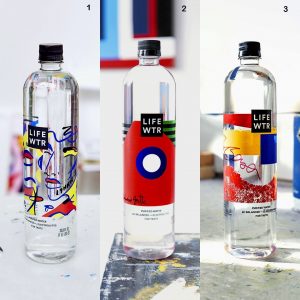 LIFEWTR believes inspiration is as essential to life as water because it moves us forward by unleashing our creative potential. This premium bottled water experience fuses creativity and design to serve as a source of inspiration and hydration. 
Each quarter, three new labels replace the prior quarter's designs, and there is always a general theme. For example, one series featured women artists while another series featured emerging fashion designers. 
LIFEWTR is purified water, pH balanced with electrolytes added for taste. Refresh your mind and restore your body with a daily dose of inspiration.
Be sure to explore the LIFEWTR website in order to learn about the artists behind the designs!