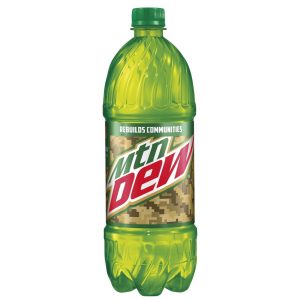 In an epic rallying cry to get out and do, MTN DEW® is teaming up with Team Rubicon, an organization that uses the skills and experiences of military veterans and first responders to serve communities impacted by disasters. To kick off the partnership, the brand announced a $1 million donation to fuel Team Rubicon's efforts, and has teamed with longtime DEW® spokesperson and Team Rubicon supporter Dale Earnhardt Jr. to help rally DEW Nation to participate in the MTN DEW x Team Rubicon mission.
"Team Rubicon is an extraordinary organization, and we are honored to partner with them and leverage our platform to raise awareness of its mission to aid in disaster-stricken areas," said Nicole Portwood, vice president, marketing, MTN DEW. "The volunteers of this great organization, many of them military veterans, continue to serve our country through disaster response teams. They are the true embodiment of what it means to 'DO THE DEW,' and we want to fuel that fire in all of DEW Nation to support this worthy mission."
"Natural disasters have hit close to home for me – like Hurricane Florence's impact on the Carolinas. Team Rubicon was there to support and rebuild those affected areas, and I'm proud to team with Mountain Dew to support its mission," said Earnhardt Jr.
Next week, Earnhardt Jr. will travel with MTN DEW to a Team Rubicon worksite in the Florida Panhandle to work alongside the volunteers as they rebuild a community that was ravaged by Hurricane Michael in 2018.
"We're honored and humbled by this major commitment from MTN DEW in support of our mission," said Jake Wood, Co-Founder and CEO of Team Rubicon. "DEW's contribution will enable us to train more volunteers in critical skills, respond to more disasters around the world, and help more people on their worst day. Like Team Rubicon, we know Dew Nation has a bias for action and we're excited to see how they'll step up to match DEW's $1 million commitment to our mission."
How to Fuel the Mission
During the promotion running now through March 24, consumers can make a monetary donation to Team Rubicon at the DEW Nation Rewards Team Rubicon store and in return earn exclusive MTN DEW x Team Rubicon rewards and gear, including t-shirts, backpacks, sleeping tents – and for the biggest Team Rubicon supporters, a once-in-a-lifetime race-day experience with Dale Earnhardt Jr.
Consumers can also represent the MTN DEW x Team Rubicon mission by purchasing participating MTN DEW products and redeeming for points at www.DewNationRewards.com/TeamRubicon. During the promotion period, consumers will earn two times the DEW Nation Reward points by purchasing participating products. Points can be used to redeem Team Rubicon hoodies, t-shirts, boonies, tumblers and MTN DEW x Team Rubicon decals.