Thank you for visiting our site to Pick Your Charity! Below are short videos from each charity explaining their mission. Take a moment to watch each video, and then Pick Your Charity below! The polls close at 11:59pm on Wednesday, August 8th, so don't forget to spread the word and have your friends vote, too. One vote is allowed per IP address.
Pick Your Charity!
PALS Rescue, Inc. (45%, 37,388 Votes)
Canopy Children's Solutions (42%, 35,121 Votes)
DREAM of Hattiesburg (13%, 11,155 Votes)
Total Voters: 83,664

Loading ...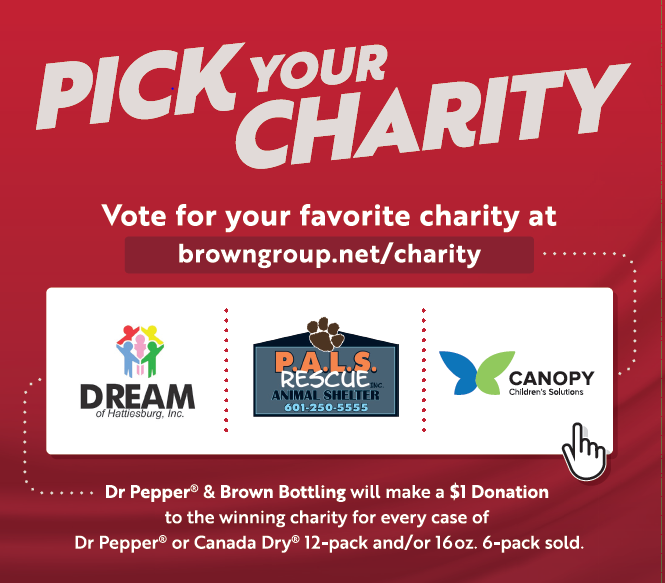 Canopy Children's Solutions seeks to tackle the most vexing challenges that face children today. More than 10,000 children in Mississippi are affected by autism spectrum disorder. Today, 1 in 59 children is diadnosed on the autism spectrum--a 15% increase over the previous four years, and a 155% increase from prevalence rates of 1 in 150 seen in 2000. Without early intervention and proper treatment, autism can impede a child's ability to speak, learn, socialize and function independently. This fall, we will open the Canopy Autism Center of Excellence, which will increase our ability to serve children on the spectrum. The new facility will include innovative sensory elements throughout and a state-of-the-art playroom that will help children learn through multi-sensory play.  The Center will also include parent training areas, private therapy rooms and room to grow and expand our staff and therapeutic offerings.
DREAM of Hattiesburg's mission is to promote positive, healthy change through prevention. DREAM stands for Drug-Free Resources and Education Alternatives in Mississippi. Winning $10,000 would help our agency maintain and add new services for the youth of Hattiesburg. DREAM's after school tutoring program is free and accepts student from any grade or school. DREAM's youth leadership programs are a great opportunity for students to get involved. Each year, DREAM hosts a youth conference that addresses subjects such as drug and alcohol abuse and safe driving. DREAM is also in the process of implementing a new music program that would select 10 middle school musicians who are interested in learning about different aspects of the music industry. As you can see, DREAM has many programs in place and more in the works to benefit children of all ages in Hattiesburg. 
Pals Rescue, Inc., is dedicated to rescuing, rehabilitating, and finding forever homes for the overwhelming number of stray, abandoned, and abused animals in Pike county. In 2017 alone, we rescued, fully vetted, including the spay or neuter and adoption or transport of 976 animals. Furthermore, we are committed to educating our community on the importance of spaying and neutering by visiting local schools, taking part in community events and creating awareness in regards to the over pet population that plagues our state. Our small staff and dedicated volunteer based Board of Directors work diligently to improve our organization. These efforts include, but are not limited to, making much needed improvements to our facility. We operate on a shoestring budget which is solely dependent on donations and fundraising efforts. At present, we are in desperate need of updates and repairs to our fencing and kennel run areas.