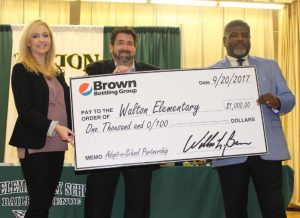 In celebration of Brown Bottling Group's longstanding adopt-a-school partnerships with two elementary schools in the Jackson Public School district, representatives from the company presented each school with a $1,000 check at separate events in September. In addition to the $1,000 check presented to each school, every first grader at both schools received a personal copy of the book Pete the Cat.
"My grandfather Ken Brown and my father Bill Brown have always stressed the importance of giving back to the communities we serve," said Shelley Brown Floyd, Chief Marketing Officer at Brown Bottling Group. "Our adopt-a-school partnerships have allowed us to positively impact students in the Jackson Public School system for more than 35 years. Working with these bright and engaging young minds is always the highlight of our day."
Ken Brown, founder of Brown Bottling Group, initiated the adopt-a-school partnership with North Jackson Elementary in 1982 followed by the partnership with Walton Elementary in 1987.