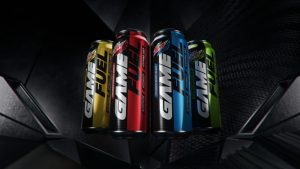 In one of the most anticipated innovation launches of the upcoming year, MTN DEW AMP is bringing its bold, boundary-pushing style to the world of gameplay with the launch of its newest beverage: MTN DEW AMP GAME FUEL®. Including ingredients shown to improve accuracy and alertness, and complete with a no-slip grip and unique re-sealable lid, MTN DEW AMP GAME FUEL allows players an enhanced gaming experience. But the best part? MTN DEW AMP GAME FUEL is designed by gamers, for gamers, curated for those who thrive on the thrill of competition.
MTN DEW AMP GAME FUEL is specially crafted to give gamers the boost they need during game play. The ingredients contained in MTN DEW AMP GAME FUEL have been shown to increase accuracy and alertness. All of the bold flavors contain 90 calories per 16 oz. and provide gamers great tasting energy to power through even the toughest levels.
The MTN DEW AMP GAME FUEL can was specifically designed to consider how gamers play. The re-sealable lid, created by Xolution, which specializes in innovative packaging solutions, allows for more uninterrupted game play and easy opening. The can's no-slip grip mirrors the sensory design of accessories and hardware in gaming.
MTN DEW AMP GAME FUEL will launch all four flavors – Charged Cherry Burst, Charged Berry Blast, Charged Tropical Strike and Charged Original DEW – in retail stores nationwide on Monday, Jan. 14, 2019 in 16 oz. cans. Consumers will be able to find it in the energy door section of retail stores nationwide. MTN DEW AMP GAME FUEL is now available to pre-order at Amazon.com and Walmart.com.
Visit Facebook.com/MountainDew to stay up to date on the latest, and join the conversation on Twitter at @mountaindew.
About MTN DEW® AMP®
MTN DEW® AMP® represents the rejoining of two tentpole brands within the PepsiCo family, infusing new excitement into the AMP portfolio by bringing it back to its roots as MTN DEW AMP. MTN DEW AMP includes MTN DEW® AMP® and MTN DEW® AMP® GAME FUEL®. For more information, check out Facebook.com/MountainDew or follow on Twitter @mountaindew.