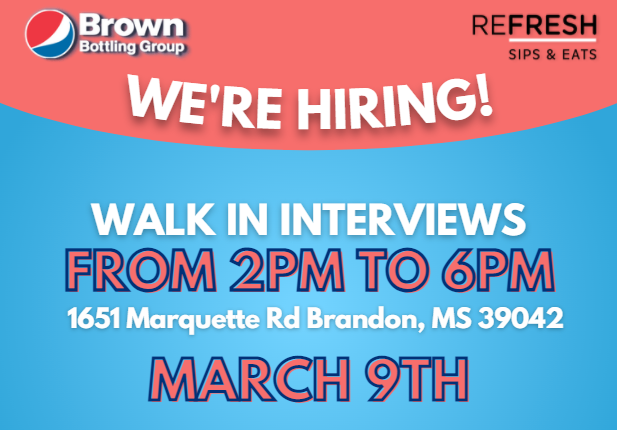 Join Brown Bottling Group and Refresh Sips & Eats on Wednesday, March 9th anytime between 2pm & 6pm at 1651 Marquette Road in Brandon for an on-site hiring event.
Potential applicants are encouraged to attend to learn more about our local, third-generation family owned companies' extensive history and to talk to current team members about various job opportunities, including but not limited to: warehouse (day or night), drivers (Class A & Class D), merchandisers, sales team members, management positions, service technicians, and more!
Can't wait to attend the hiring event? Go ahead and put in your application now at apply.browngroup.net where you'll find a complete list of job openings at all our companies throughout several locations such as: Brandon, Meridian, McComb, Natchez, Hattiesburg, Philadelphia & more!
For additional information, feel free to reach out to our HR department via email at jobs@browngroup.net!