Mountain Dew and Dr Pepper proudly served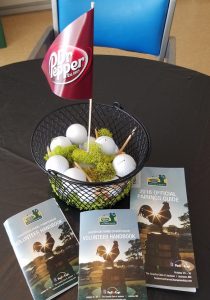 as the official volunteer sponsors of the 2016 Sanderson Farms Championship that took place October 24 through October 30. It takes many hard-working volunteers in order to put on an event the size of Sanderson Farms Championship, and it simply would not be possible without the thousands who volunteer each year.
Brown Bottling Group, central Mississippi's Mountain Dew and Dr Pepper distributor, is pleased to have been part of this wonderful event as it raises much needed funds for Batson Children's Hospital, the only children's hospital in the state of Mississippi.
Sanderson Farms Championship is a week-long PGA TOUR event that takes place at the Country Club of Jackson in Jackson, Mississippi. Last year alone, the Sanderson Farms Championship and the PGA TOUR made joint contributions totaling more than $1.5 million to Mississippi charities. Since 1968, more than $11 million has been contributed to charitable organizations in our state.
For more information, please visit www.sandersonfarmschampionship.com!