Brown Bottling Group is pleased to partner with two elementary schools in the Jackson Public School system: Walton Elementary and North Jackson Elementary. These partnerships were initiated by Ken Brown, our founder, more than 25 years ago, and we are proud to continue to serve some of the youngest members of our community.
In September, Brown Bottling Group representatives were thrilled to visit both of our adopt-a-schools with a surprise for all the first graders at each school.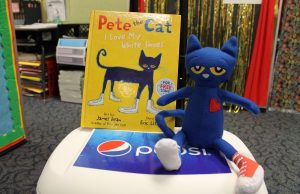 Because reading is fundamental in education, we are happy to help in any way we can to stress the importance of reading and to show students how fun it is to read. Members of the Brown Bottling Group team visited each first grade class at both Walton & North Jackson Elementary to read Pete the Cat and surprise the students with something else.
All the students know and love the Pete the Cat book series, so they were elated when it was announced that each first grader was going to get his or her very own Pete the Cat book.
Visiting the students at our adopt-a-schools is always the highlight of our week! We look forward to making many more trips this school year to help enrich the learning environments at these schools for all the students, teachers, and faculty.